Do you want to stay on top of project costs? Do you want to know where you are on your time and materials projects?
Are you tired of losing money due to consistent oversight on job costs and materials?
Time and Material Tracker provides you will all the key features that you need to stay on top of your project costs and know where you are in relation to your budget.
Time and Materials have never been easier to input, track, and report...
Enter or import Time and Materials for each Progress Bill in an easy-to-use, intuitive interface.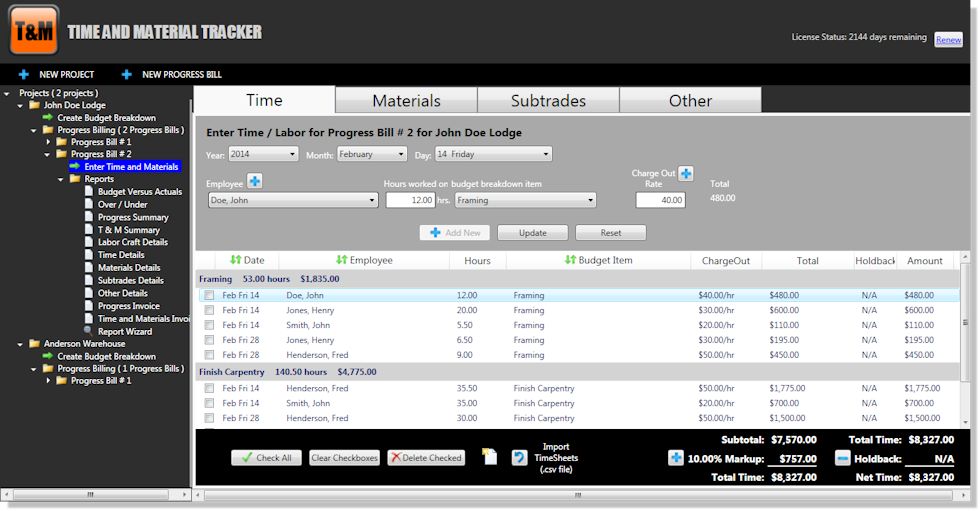 Key Features:




Budget Breakdown - Create custom breakdowns and track time and materials expenses against each item in your custom breakdown for each Progress Bill in your project for Total Work Completed, Previously Progressed, and for the Current Progress Bill.

Templates - Create breakdownt templates for resuse in future projects, and customize them to your project's requirements.

Markup - Set custom Markup Rates for Time, Materials, Subtrades, and Other cost types

Holdback - Set custom Holdbacks for Time, Materials, Subtrades, and Other entries

Labor Charge Out Rates - Create custom hourly charge out / billing ratess

Labor Billing Categories - Create custom labor / chargeout categories (e.g. Journeyman, Laborer, Carpenter, Foreman, etc.) and assign employees to such labor categories

Eliminate duplicate data entry - Import records from accounting software via .csv files. Imports both Timesheet entries and Vendor invoices.
Produces the Time and Materials Invoice along with a package of transparent cost reports for you and your client.
After entering Time and Materials for the current Progress Bill, open the Reports Folder in the left menu to automatically produce a suite of cost reports along with the progress invoice.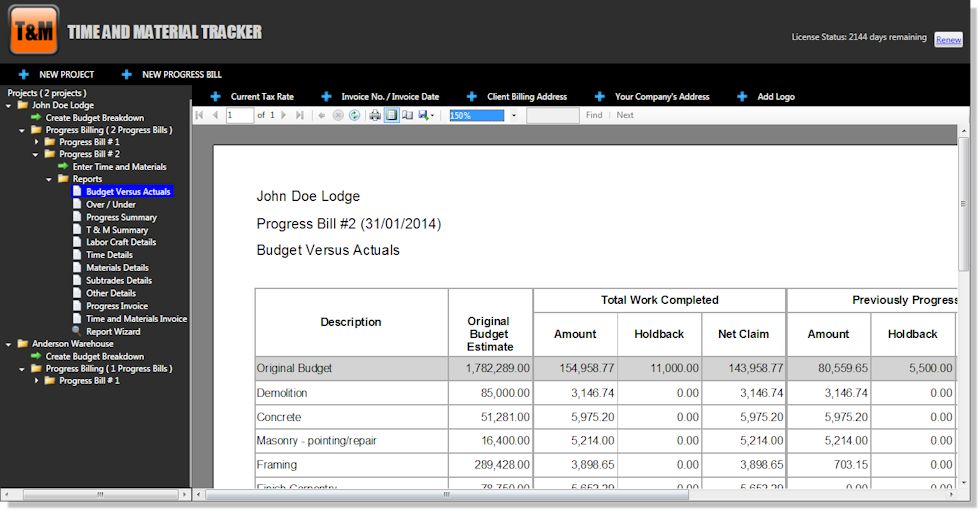 Key Reporting Features:




Time and Materials Progress Invoice - Produces the invoice (2 versions to select from) with each Progress Bill.

Budget Vs. Actuals and Time and Materials Cost Reporting - Automatically computes a package of Summary and Detail cost reports to supplement the invoice and to provide you with ultimate cost control.

Dynamic Custom Reports - Use the built-in Report Wizard to create custom reports based on your search terms. Create Employee, Vendor, Timesheet, Materials Inventory, and Labor Categories reports on the fly.